On March 5th 1945 Cologne was taken by the American troops. About 30 - 40 Jews from Cologne, who had disappeared, left their hiding spots and in the course of one year more and more surviving parishioners returned. On their meeting from February 22nd 1952 the synagogue municipality of Cologne resolved upon a new statute which also enclosed Rheinisch-Bergische area. On May 18th 1953 the federal state government gave back the rights of a body of the public right to the synagogue municipality of Cologne. There hasn't been a new synagogue municipality established in Porz until this day.
The British military government ordered on October 20th 1947 that the Jewishs graveyard was to be returned synagogue municipality of Cologne free of charge. However, this had not been necessary because it had not come to a legal transference of the graveyard to the municipality of Porz in 1944. In 1953 the "Jewish Trust Corporation for Germany Limited in London " owned the Jewish graveyard. In 1960 the synagogue municipality of Cologne took over the property. They asked the city administration of Porz on 10/25/154 to maintain the graveyard. The administration agreed to the application of the synagogue municipality on February 1st 1955; they maintain the graveyard until then, already.
| | | |
| --- | --- | --- |
| School teacher Heinrich Schneider pointed out the graveyard to the public in 1957 and among other things mentioned that eight marked tombs have been left, six out of them still had gravestones, the other two only enclosures. The stones were from the 1920's and 30's. The names Kaufmann, Salomon, Cahn, Tobias and Sommer were still recognizable. | | |
The property of the Jewish graveyard encloses a total of 3754 square meters. Only 412 square meters were used for the graveyard which was enclosed by a. The garden and cemetery velvet of the city of Porz surrounded the graveyard in 1960 with a fence and a gate. They did this exemplary, that's how the head of department of the synagogue municipality of Cologne judged in a letter from 7/27/1964 to the city of Porz.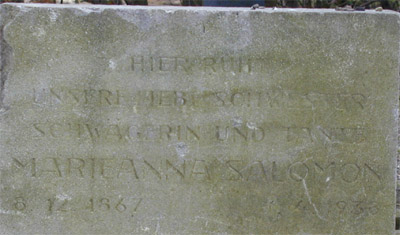 On 1/1/1976 the city of Porz was dissolved and integrated as a district into the city of Cologne. Since this time the graveyard care has been cut to a minimum. Almost nothing is of the enclosure is left, the area went to seed, partially it is abused as a "garbage dump". Pupils of the Lessing-Gymnasium cleaned the area from the rubbish, a few years ago. Only a small sign that was put up three years ago reminds of the life of Jewish citizens in Porz.