Zündorf and Muelheim were important for the trade of the Duchy Berg on the Rhine. In 1259 the Archbishop Conrad von Hochstaden granted Cologne privileges. Zündorf and Muelheim were interesting for ships, which wanted to avoid the Cologne trading rights by using the land route between Zündorf and Muelheim. In Zündorf, Duke Adolf of Berg gave order to build a customs tower. The purpose of this tower was to serve the collection of customs due up to 1431. Zündorf remained as a trading place, where goods were loaded and unloaded with two large harbour cranes. In 1831 Cologne lost the privileges and the trade in Zündorf was meaningless. Both Rhine cranes have been dismantled. In Zündorf some of the Jewish families had acquired prosperity and reputation. Sources show that no rich Jews with far-reaching business relations were in Porz, most were ordinary people: marketeers, moneychangers, butcher, traders, tailors, teachers, ropemakers and cattle dealers. The field name "Judenberg", east of the Eiler high cross, indicates that Jews were persecuted by an incited population in the middle ages.
Jews might have lived in Niederzündorf in 1700 already: Lawrence Judendunck from Ollingshaus, owner of soap works in Zündorf and Cologne, could have been a Jew. The first secure document for a Jew in Zündorf is in the book of the dead of Cologne Deutzer Jewish cemetry. On 2nd July 1708 the Jew Isachar was buried there. An invoice of a waitress in Bensberg contains following insightful comment on the receiving of Jewish tribute: various Jews lived in Porz, but the Kürfürst got nothing, because the tribute should not burden the Jews. The Jews in Niederzündorf had to pay a tribute, but only for big festivities - such as weddings and circumcisions as well as births or deaths - the wine cellars of the priest office in Zündorf got 1 gold gulden naming no names. In 1748 the head of the Judenschaft complained, Isaac von Geldern, to the Herzog von Berg that the tollkeeper Anton Büscher had raised the Jewish tribute without permission.
Many Jews also successfully operated in the real estate business. One example was Andreas Salomon, a successful home and real-estate owner and money lender. Between 1820 and 1821 he bought ten parcels of land. Amongst others Solomon acquired land in Heumar and land of a former vineyard in Langel. He sold these houses to Adam Voosen, from whom he acquired a house with court. Evidence is available on Jews from outside, who operated real estate trade. So Samuel Seligman from Bonn acquired a court in Elsendorf and different fields in Urbach.
The industry in Porz was of low importance. There were neither capital owners, nor factory owners, nor merchants. It had been suggested that the "Industrianten" should be divided into 10 income taxes. The eight tax categories had been classified in the ratio of the first to last. It arose following classification: the first class contributed 14 parts, the second 12 etc. Under 55 names appeared in the list of Republican calendar Andreas Salomon and Moses Cain, both with 2 Stüber 7 Heller and Judy Bacher with 4 Stüber and widow Solomon with 12 Stüber. This confirmed again the presumption that they have been residing here already much earlier. A food tax from May to July 1800 was imposed on Moses Cain and Andreas Salomon with 17 Stüber 8 Heller, Judy Bacher was imposed with 1 Stüber 6 Heller, widow and Abraham Solomon with 4 Stüber, 8 Heller. The Jews Salomon and Moses Cain to Zündorf paid in another month 7 Stüber, as in the year 1802. A new name appears in the 5th tax class: Judy Anschel from Zündorf, in the sixth again Moses Cain. Andreas Solomon was in the 5th tax class in 1804. A new name appears in the sixth: Judy Morsche.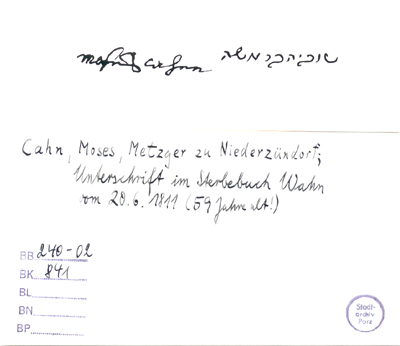 The Files of the Prefecture of the Rhine Department in the Grand Duchy Berg contain a directory of the "assimilated Jews"." These Jewish groups lived on 29th April 1811 in the Kanton of Muelheim of the Arrondissement Muelheim:

| | | | | | | |
| --- | --- | --- | --- | --- | --- | --- |
| Mairie | men | women | widowers | widows | boys | girls |
| Mülheim | 13 | 13 | 1 | 2 | 13 | 15 |
| Deutz | 39 | 39 | 5 | 3 | 58 | 85 |
| Mehrheim | 0 | 0 | 0 | 0 | 0 | 0 |
| Wahn | 4 | 4 | 0 | 1 | 13 | 9 |
| Heumar | 0 | 0 | 0 | 0 | 0 | 0 |
| Summe | 56 | 56 | 6 | 6 | 84 | 109 |
Die königlich preußische Regierung zu Köln schrieb am 1. März 1817 einen Brief an den "Landrätlichen Commissarius" von Spieß von Mühlheim. Darin erklärten sie, dass viele Juden, vor allem auf dem Lande, "unerlaubten Handel" und "schädlichen Wucher" trieben. Sie veranlasste, dieser Sache nachzugehen und forderte, dass man die Ergebnisse mitteilen solle. Außerdem schrieb die Kölner Behörde vor, dass alle Juden, die dort lebten, eine Liste mit Vor- und Zunamen, Geburtsort, Alter, dem Zeitpunkt ihrer Ansiedlung in dieser Provinz, dem jetzigen Wohnort, dem Nahrungserwerb und dem Datum ihres letzen Judenpatents anfertigen sollten.

The Royal Prussian government to Cologne wrote on 1. A March 1817 letter to the Landrätlichen Commissarius of Kickxia of Mühlheim." It stated, that many Jews, especially on the country, "illicit trade"and "harmful usury" drove."" "" Induced investigate this matter and asked that we should tell the results. Also wrote the Cologne authority, that all Jews who lived, a list of first and surname, place of birth, age, there should make the time of their settlement in this province, the current residence, the food purchase and the date of their last Jewish patent.





Doch das Misstrauen gegenüber den Juden blieb bestehen. Das führte am 5. Juli 1817 dazu, dass die Regierung zu Köln "eine polizeiliche Aufsicht über die Israeliten für unerlässlich" notwendig erachtete, weil sie fürchtete, dass manche Juden immer noch illegalen Handel betreiben würden. Die Behörde mahnte an, dass die Verzeichnisse noch nicht vollständig erstellt seien. Aus einem summarischen Verzeichnis aus dem Jahre 1816 ist lediglich zu entnehmen, dass schon Anfang des 18. Jh.s Juden im heutigen Porz gelebt haben.


But the distrust of the Jews remained. This led to the 5. July 1817 to that the Government to Cologne "a police supervision of the Israelites essential"necessary considered, because they feared that some Jews would operate still illegal trade."" The Agency warned that that the directories were not yet fully created. From a summary directory from the year 1816 only, is that start of the 18th century. Jh.s have lived Jews in the present Porz.